Hosted by Mesa Rim Mira Mesa & The Climbing Academy
(Saturday, June 12th + Sunday, June 13th)
Competition Info
The Youth Regional Championships are a USA Climbing sanctioned youth climbing competition meant to give young competitive climbers the opportunity to climb and compete with one another. We are thrilled to be hosting this event for Region 32, which includes all counties in California south of LA County, Arizona, and southern Utah.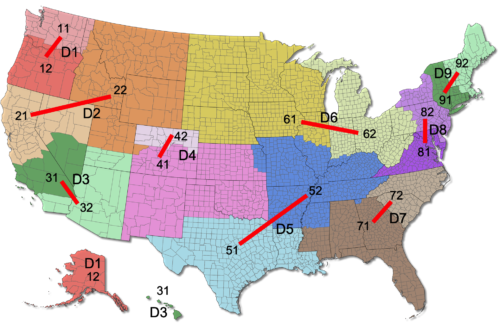 Ordinarily, the top 12 ranking athletes would secure a spot at the Divisional Championship to compete for a spot at the National Championship. However, in order to limit large gatherings and to discourage travel, Divisionals will not take place this year. Instead, the top 4 ranking athletes in each Category at Regionals, in each discipline (bouldering and sport), will secure a spot to compete at Nationals.
Another significant change is the combined format of this event. In ordinary years, bouldering and sport/speed are split into separate seasons during the year. However, due to COVID-related cancellations that occurred in 2020, USA Climbing opted to create a combined event where athletes compete in both bouldering and sport. There will be no Regional Speed Championship.
Athletes are required to qualify for Regionals by participating in Virtual Qualifying Events and those who ranked in the top 25 of their discipline for their Category (sport, bouldering, or both) are eligible to compete.
USA CLIMBING YOUTH CATEGORIES

 

Birth Year

 

Age Category

Competition Category

Female

Male

2010 or later

Youth D

Female Youth D (FYD)

Male Youth D (MYD)

2008-2009

Youth C

Female Youth C (FYC)

Male Youth C (MYC)

2006-2007

Youth B

Female Youth B (FYB)

Male Youth B (MYB)

2004-2005

Youth A

Female Youth A (FYA)

Male Youth A (MYA)

2002-2003

Junior

Female Junior (FJR)

Male Junior (MJR)
What does Mesa Rim require for Youth Regional Championship competitors?
Please review all competition information on the

USAC Region 32

website.

All competitors must have a waiver on file prior to the event.

No competitors or their families will be permitted within the facility in the week leading up to Regionals.

We ask that members do not film or take pictures inside the gym in the week leading up to Regionals.

Competitors will be limited to 1 spectator.
COVID Protocol
Everyone attending the event will be required to complete the

Regional Championship COVID Screening

.

Masks required at all times and social distancing will be enforced as per CDC and California Guidelines + Mandates.

Use of liquid chalk/chalk sock recommended.

Rope biting strongly discouraged even through a mask.

Competitors must use the brush provided at each boulder, personal brushes are not permitted.

Athletes that are lead climbing must supply their own ropes (

9.6mm – 10.1mm in Diameter and at least 35m in Length).

All belayers must bring their own Assisted Braking Device (ABD).



Schedule
The Youth Regional Championships will take place over two days on June 12th + June 13th at The Climbing Academy (10070 Mesa Rim Road, San Diego, CA 92121) and the Main Gym in Mira Mesa (10110 Mesa Rim Road, San Diego, CA 92121) – Street Parking Only!
| | | | |
| --- | --- | --- | --- |
| DATE | EVENT | FACILITY | ISO |
| June 12 | Bouldering | The Climbing Academy | Main Gym Bouldering Area |
| June 13 | Sport | Main Gym | The Climbing Academy |
Saturday, June 12th
Bouldering – The Climbing Academy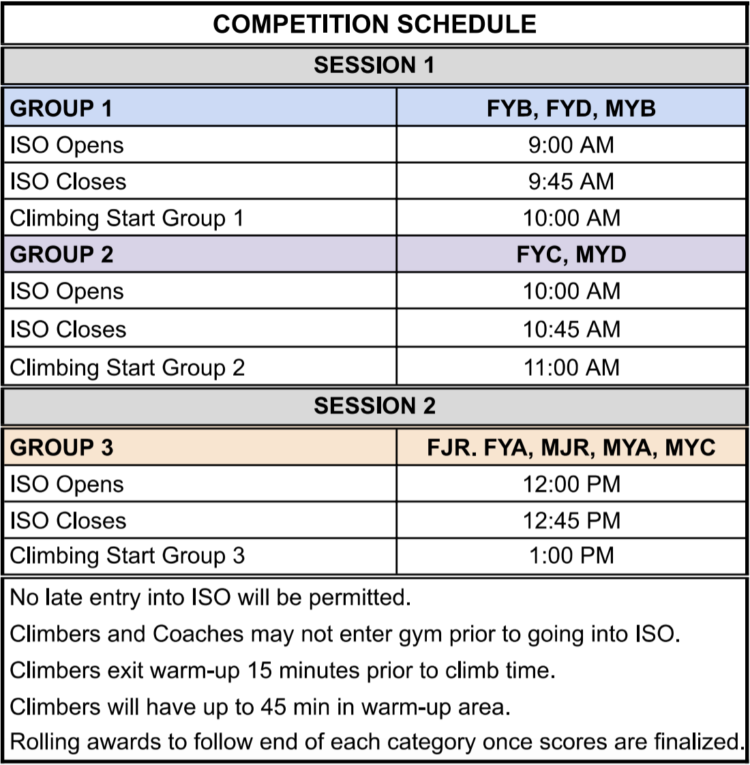 Sunday, June 13th
Sport – Main Gym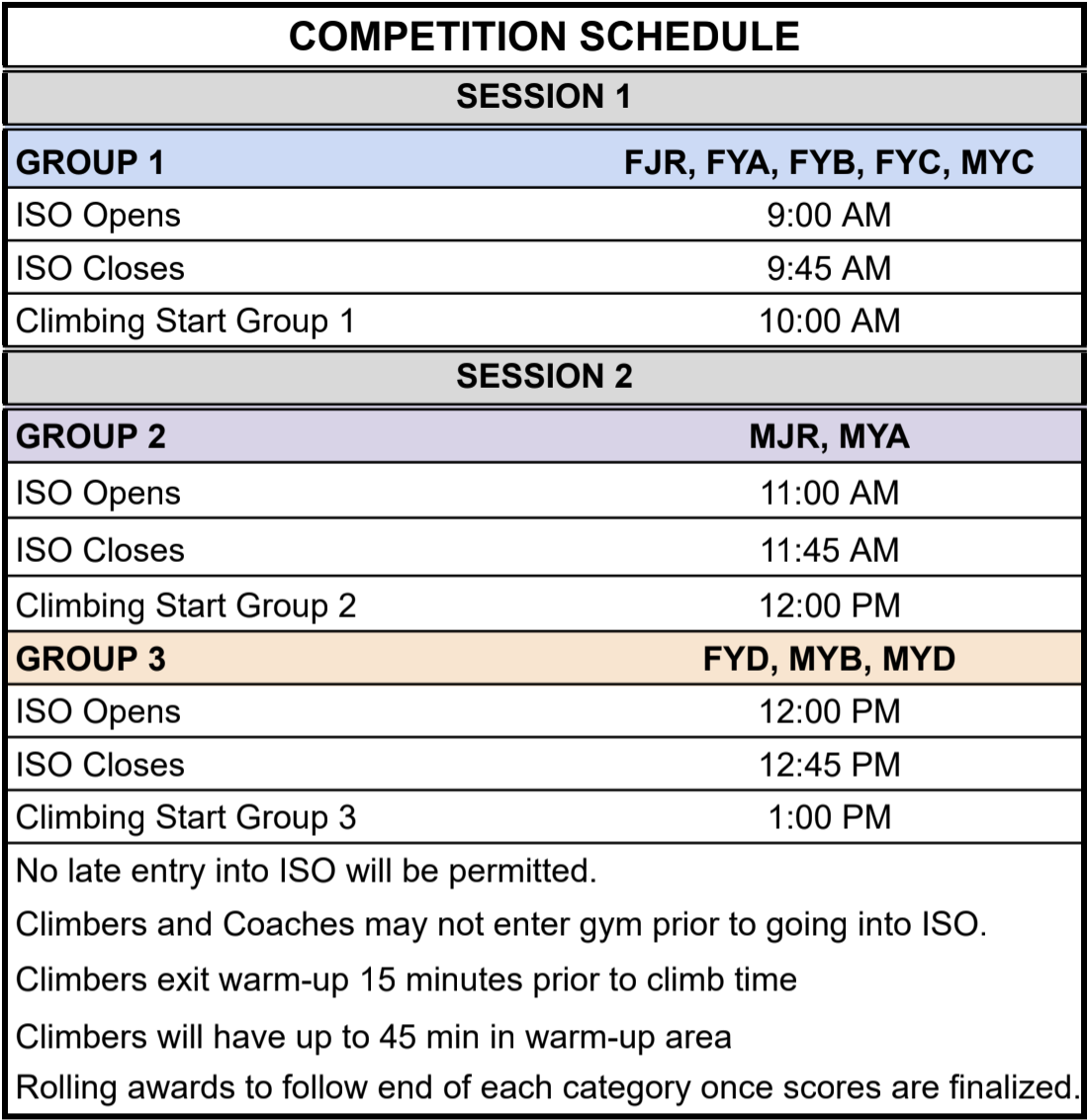 Registration Beta
There are three rounds of registration. Competitors should check their Regional rankings at www.usaclimbing.org/results in order to determine when to register.
1st Registration – Friday, May 7, 8:00AM to Sunday, May 9, 11:00PM
This Round is open to competitors ranked in the top 25 of their category and in their region at the conclusion of the Virtual Qualifying Series.
2nd Registration – Wednesday, May 12, 8:00AM to Friday, May 14, 11:00PM
For Categories with less than 25 registered competitors after the 1st Registration Round, this 2nd Registration Round will open on a first-come, first-serve basis to competitors who competed in a Virtual Qualifying Event and earned a ranking that falls outside of the Top 25 of their region/category.
3rd Registration – Monday, May 17, 8:00AM to Wednesday, May 19, 11:00PM
For Categories with fewer than 25 registered competitors after the 2nd Registration Round, this 3rd Registration Round will open on a first-come, first-serve basis to competitors who have an active Competitor Membership (regardless of when that membership has been purchased or upgraded).

USA Climbing will send Regional Championship registration links to the email attached to your USAC profile if and when you qualify to register.
Volunteers
Our amazing Regional Coordinators will be organizing volunteers for this event, and many will be needed. Please click one of the links below if interested in volunteering to help out!
Hotel Block
We currently have a limited number of hotel rooms with the Country Inn & Suites (5975 Lusk Blvd, San Diego, CA). If you Reserve Online, use code 21mesa under Special Rates/Promotional Code
OR call 800-333-3333 and mention code 21mesa to save!
SATURDAY SCHEDULE at a glance
ISOLATION:
9:00am Opens for Group 1 (FYB, FYD + MYB)
10:00am Opens for Group 2 (FYC + MYD)
12:00 pm Opens for Group 3 (FJR, FYA, MJR, MYA + MYC)
COMPETITION
10:00am Climbing starts for Group 1 (FYB, FYD + MYB)
11:00am Climbing starts for Group 2 (FYC + MYD)
1:00 pm Climbing starts for Group 3 (FJR, FYA, MJR, MYA + MYC)
SUNDAY SCHEDULE at a glance
ISOLATION:
9:00am Opens for Group 1 (FJR, FYA, FYB, FYC + MYC)
11:00am Opens for Group 2 (MJR + MYA)
12:00 pm Opens for Group 3 (FYD, MYB +MYD)
COMPETITION
10:00am Climbing starts for Group 1 (FJR, FYA, FYB, FYC +MYC)
12:00am Climbing starts for Group 2 (MJR + MYA)
1:00 pm Climbing starts for Group 3 (FYD, MYB +MYD)