Adventuring in the Bugaboos, a mountain range in the Purcell Mountains of eastern British Columbia, Canada.
In 2017 when a friend suggested we extend our Squamish trip into a Bugaboos trip, I was pretty skeptical. At that point everything I knew about this remote Canadian alpine climbing destination was from what I had seen in the famous Reel Rock clip, "Boys in the Bugs." Based on this video, I assumed that pretty much all the climbing up there would be 5.14 finger cracks.
My friend reassured me that there would be plenty of climbing to be done by mere mortals like us, and we were off! 
After nine days of wild fun, we had to return to our vans and head back to the States, but I knew I would have to come back! There was so much incredible climbing yet to be done! But when could I make it back to the Bugs?!
Two years later in August 2019 I was headed back! This time with my friend Brenton who I had already spent the last two weeks with climbing in Wyoming. We packed up our gear, our bag of wine, and our array of powdered foods at the Bugaboos parking area and lugged our load up the soggy trail. 
Several hours and thousands of feet later we set up our tent at Applebee Camp in the center of the main Bugaboos climbing zone.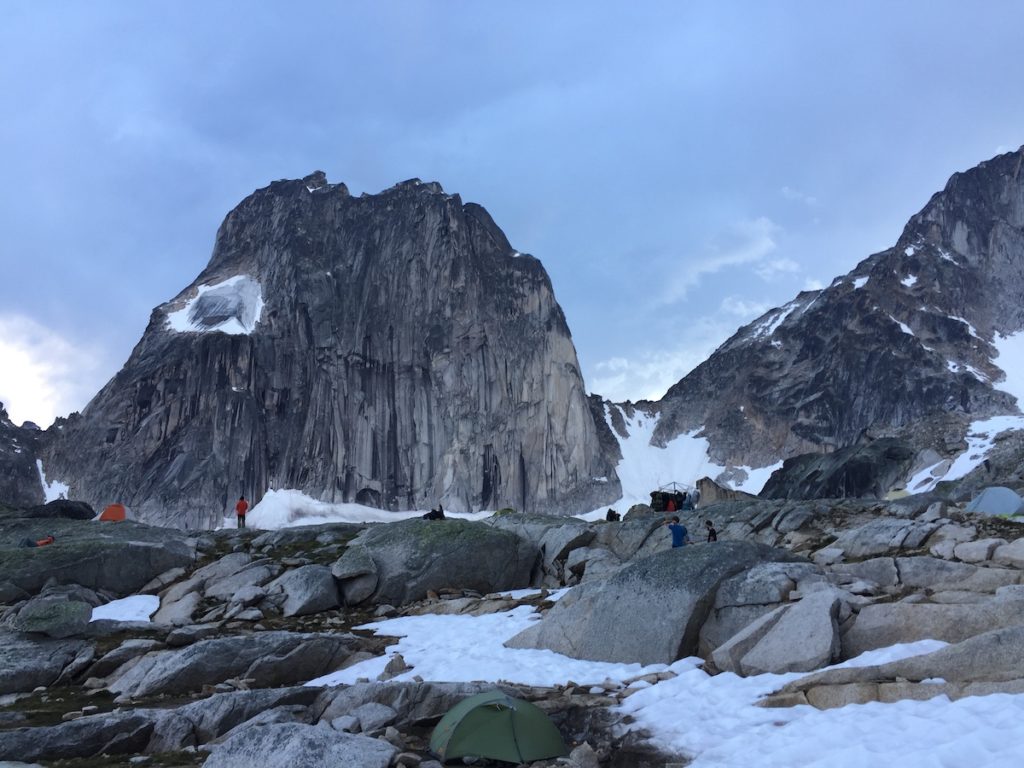 Looking out at Snowpatch Spire from Applebee Camp
The Bugs are truly an awe inspiring place, partly because everything in this area is extreme. The granite spires are so immense, so steep, so beautiful. The glaciers that separate them crack and send out deep thundering rumbles. 
It all serves as a friendly reminder to us that we are just tiny specks out here crawling around on the surface of these mighty formations. It is intimidating and scary, but that is part of what makes climbing out here so incredible.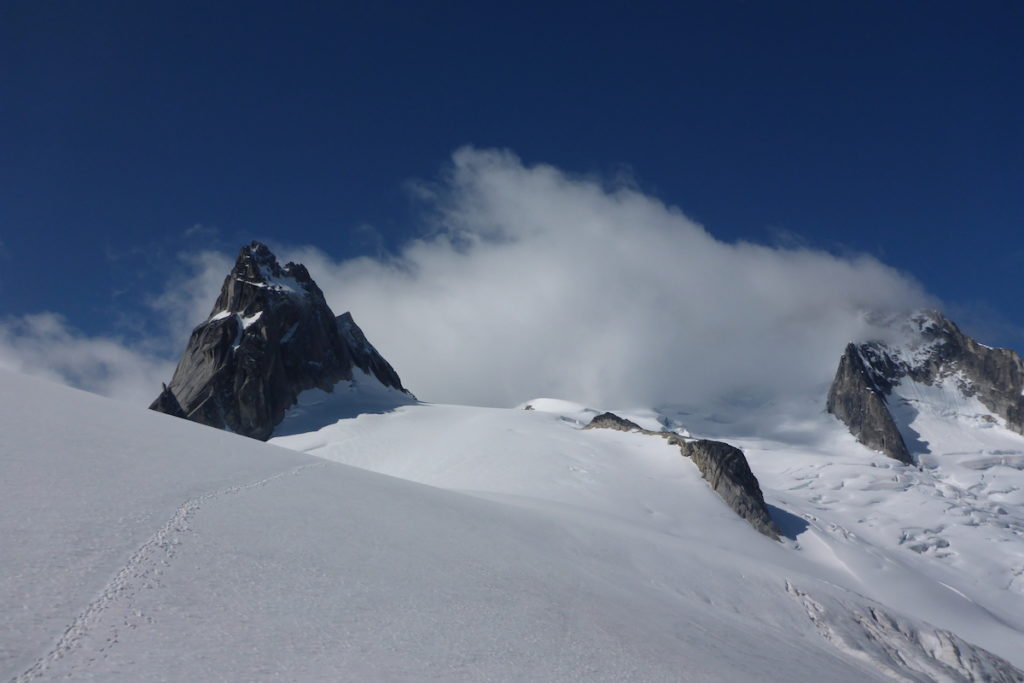 Pigeon Spire on the left and the Howser Towers enshrouded by clouds from across Vowell Glacier
We spent 12 days out there together and had great weather almost the entire time. We ticked off some of the classics like Sunshine Crack and the Northeast Ridge of Bugaboo Spire in the first couple days. We had some bigger and wilder objectives in mind though, so we packed up our camp and moved to another zone in the park with better access to some more remote spires.
There, we found two of the best climbs of our lives! One was Solitary Confinement, an incredible mega-splitter crack that runs all the way up the Prince Albert tower. This climb is six pitches of climbing the same single crack, going from fingers at the bottom to offwidth and chimneying at the top . . . WILD!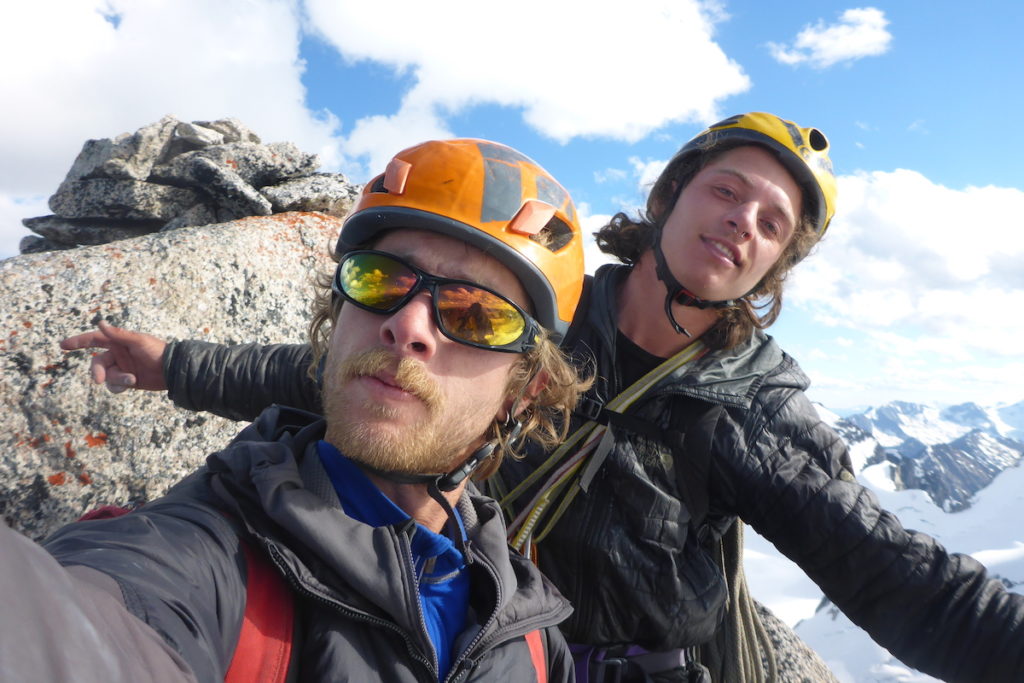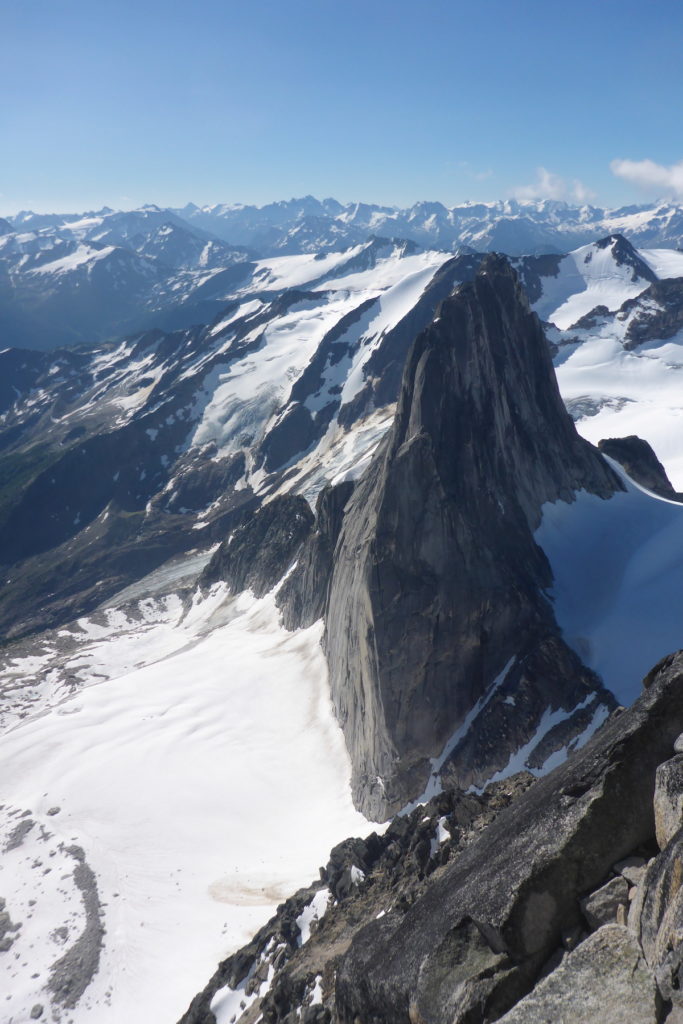 Looking down at Snowpatch Spire from the Bugaboo Spire summit
The second climbing highlight was the famous Beckey-Chouinard on the South Howser Tower. This route is an undisputed classic, 15 pitches excellent climbing up a 2000-foot tower, and it all goes at 5.10! 
On this route there is a feature called the Great White Headwall, which the B-C sidesteps and heads up an easy chimney on the side. I had heard from a friend who had climbed it in the past that there was a harder variation that takes you straight up a 400-foot-long splitter in the middle of the headwall.
Obviously we had to go for it!
We did it in three pitches; one 30m pitch of ~5.10+ thin hands and chimneying; one 30m pitch of ~5.11+ pure ring locks (we had four .75s and wanted six!); and one ~5.10++ 60m pitch of glorious hands to the top of the headwall. 
This is the way to do the B-C, trust me.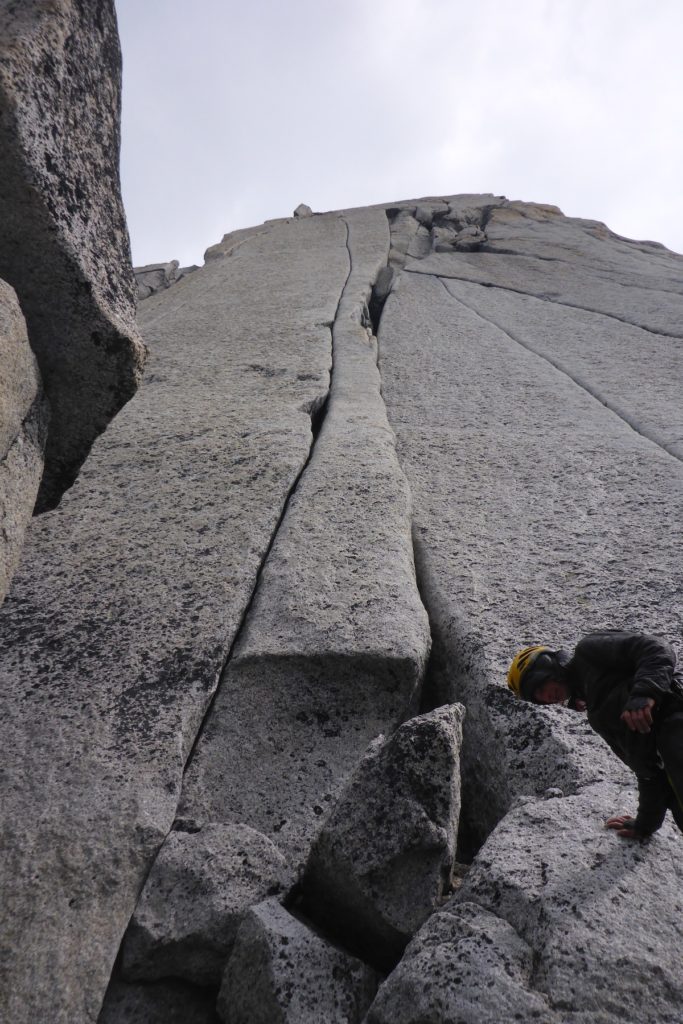 Looking up at the mega-splitters on the Great White Headwall of the Beckey-Chouinard
We're so Alpine! Brenton and me in front of The Minaret.
For me, rock climbing is all about wild adventure and spending quality time with great people. This trip was everything for me—two weeks in one of the most beautiful and rugged places I have ever seen with one of my best friends ever. 
Trying hard, having fun, laughing all day every day—what's not to love?
When you need to recharge your stoke, go to Canada! Or at least watch that "Boys in the Bugs" video.