BECOMING A STRONGER BOULDERER
OUR GOAL IS TO PROVIDE YOU WITH THE TOOLS TO HELP YOU ENJOY A HIGH-LEVEL, EDUCATIONAL, AND REWARDING BOULDERING EXPERIENCE.
MESA RIM BOULDER GRADING SCALE
OUR BOULDERS ARE SET WITH COLOR-CODED TAGS THAT REPRESENT THE DIFFICULTY OF THE GRADE RANGE. GRADES FROM EASIEST TO CHALLENGING ARE GREEN, BLUE, YELLOW, RED, PURPLE, AND BLACK.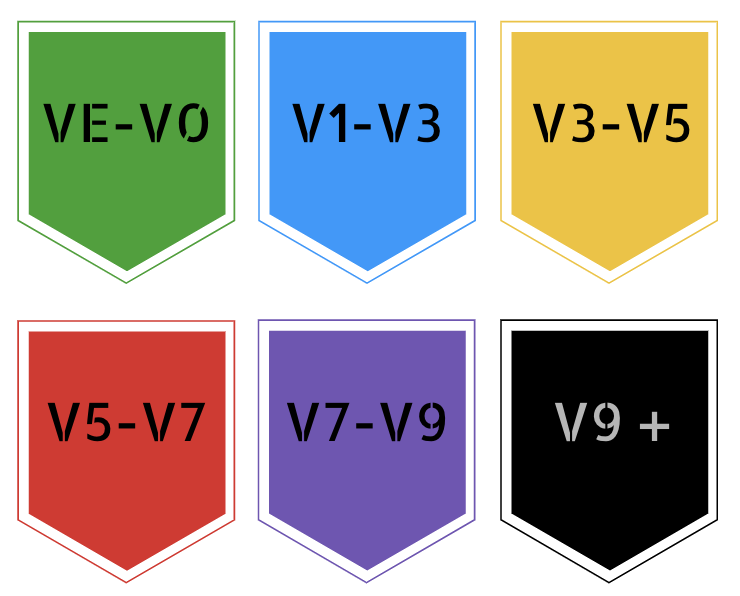 MESA SESSIONS
The Mesa Sessions are coach-developed workouts designed to create an autonomous climbing training experience for the intermediate to advanced climber. 
The What:
The Mesa Sessions are 30- or 60-minute climbing workouts that utilize boulders in the same color grading scale to target a desired training zone: Strength, Power Endurance, Endurance, General Fitness, and Skill Acquisition. The workouts can be used by beginner and advanced climbers alike as they're scaled to ability; each climber will use the color circuit (on the grading scale) to choose climbs that match their ability level. Every two months, we will release a new set of workouts including one that focuses on skill acquisition via Movement Stations. 
The How: 
Identify the color zone from our "Grading Scale" that best matches your ability. Use that to choose boulders around the gym with that same colored tag.

Choose a 30- or 60-minute workout below.

Warm up for 15-20 minutes.

Repeat the workout until your chosen time limit is up.
Strength, PE, Endurance Pro Tip
If you are having trouble completing one boulder in your circuit, before adding in an easier one try adding an additional foot hold or hand hold to get through the move that is giving you trouble.
GET FIT PRO TIP
Be aware of other climbers while doing this and respect their climbing session. Avoid doing this on popular walls or during busy times at the gym (4-8pm).
Strength, PE, Endurance Pro Tip
Attempt new boulders each time you repeat. If you make it through all the boulders in the color circuit start over again—perhaps attempting boulders you didn't finish or ones that challeneged you.
REFINE YOUR CLIMBING ABILITY WITH MOVEMENT STATIONS
The Movement Stations are designed to create a fun and engaging learning environment for new and intermediate members to explore and refine foundational climbing movement with a coach or on your own. For more experienced climbers, adding this into your warm-up is a great way to continue to develop your climbing skill set. 
The What: At any point there will be nine different Movement Stations on the wall that focus on the following movements: square position, backstep, matching feet, crossing feet, mantel, heel hook, dynamic movement, backflag, and stemming. 
The How: The stations will be integrated into the normal boulder setting rotation primarily in the green to yellow color circuit, so be on the lookout for the stations around the gym. They will be recognizable by a QR code located near the starting holds of the boulder. Scan that code to view the Movement Station. Demos of each of the stations are also accessible to the right.