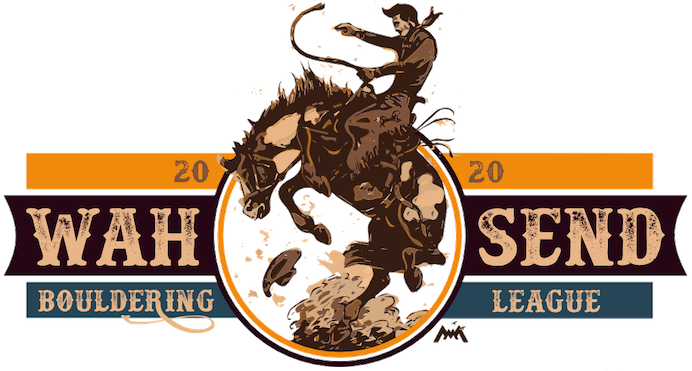 GIDDYUP, PARDNERS! IT'S BOULDERIN' TIME!
Mesa Rim would like to welcome you to the 2020 Wah-Send Bouldering League! Pull up your trousers and shine up those boots to put your skills to the test in this friendly, all-ages, and free competition that pits you against other climbers of similar abilities. Whether you're a greenhorn, city-slicker or a seasoned veteran, you'll have 3 hours to complete as many problems in your grade range, however you will be scored on your top five climbs.
Join your community for three fun nights of bouldering, new problems, and familiar faces. Western cowboy and cowgirl attire encouraged!
WHEN
Round 1 – Tuesday 1/28, 6-9pm

Round 2 – Tuesday 2/11, 6-9pm

Round 3 – Tuesday 2/25, 6-9:30 + DJ DERV!!

Competition ends at 9pm; awards take place from 9:15-9:30pm
CATEGORIES
Law Keepers (VE-V3)

Rustlers (V4-V6) 

Bandits (V7-12+)
RULES
Participants compete as individuals (not teams).

Participants may compete in any round, but will have the highest chance of winning if coming to all three. 

Earn points for the top five climbs in each round.

Competitors self-identify their skill level on their scorecards, but may be moved to another category at the discretion of the chief routesetter.

Competition form is classic redpoint (competitors get points for a clean send of the route). Points are awarded based on route difficulty, e.g., a V0 may be 100 points and a V5 1,000 points.
KEY POINTS
Cumulative bouldering league.

Climbers may participate in any round, they do not have to attend the first to go to the second, etc.

Round 3 will be the final round. Climbers with the highest cumulative points in each category will win a prize. 6 Winners total (M/F from each category).
ENTRY FEE
Included with day pass or membership.
WINNINS
Winners will have the opportunity to win prizes from Butora, Metolius, Mesa Rim, and more!   
FIXINS
Finals will feature free beer (if you're of age) and pizza slices for purchase.
REGISTRATION
No registration required. Just mosey on in!