CLIMBING + FRIENDS + FUN
YOUTH PROGRAMS
Every climber is on a unique journey to reach their own individual goals. Mesa Rim's recreational and competitive youth programs are designed to help climbers of all levels reach new heights by building the best foundation possible in a fun, supportive environment.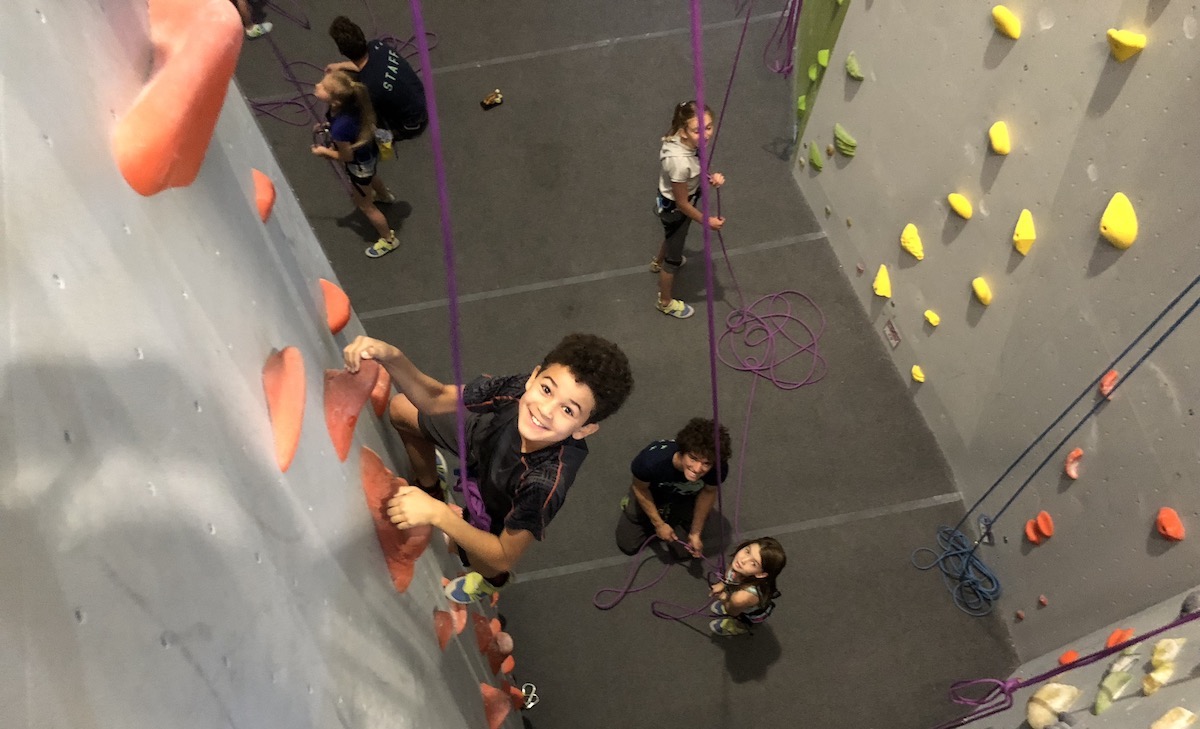 Rock Monsters DROP-IN Programs
These two-hour sessions are designed to introduce new climbers into the sport of rock climbing. Programs are led by our experienced youth coaches and offer a fun and educational experience.
REQUIREMENTS: Must be 7 to 13 years old
PRICE: $28 per 2-hour session or $235 for 10 sessions
SESSION TIMES:
Saturdays 10 – 11:30am and 12-1:30pm
Sundays 10 – 11:30am
ADVENTURE SERIES
The Adventure Series is a 10-week guided climbing program for youth interested in advancing their climbing skills in a structured environment with the help of expert coaches. The series is intended for beginner to intermediate climbers that have attended Rock Monsters or one of our climbing camps.
REQUIREMENTS: Must be 7 to 16 years old
WHEN: Sundays,12:00pm-1:30pm
PRICE: $275 for 10-week session
SERIES INCLUDES:
10-week pre-paid membership to Mesa Rim Reno
Rental Gear (harness, shoes, chalk bag, belay device)
Free belay lesson for parent
CAMP MESA RIM
Camp Mesa Rim is a great place for your adventurer to experience rock climbing, play games, learn new skills and make great friends! Scheduled seasonally during school breaks.
REQUIREMENTS: Must be 7 to 13 years old
PRICES: $90 for 1-day camp; $250 for 3-day camp; $390 for 5-day camps
ACTIVITIES: Rock climbing, youth yoga, crafts & games!
ASCENT YOUTH team
RECREATIONAL CLIMBING TEAM
The Ascent team is designed for youth who are looking for a fun, supportive environment to become better athletes, learn skills that can be applied to indoor and outdoor climbing, and make lasting friendships.
REQUIREMENTS: Must be 7 to 18 years old
MEMBERSHIP PRICE: $160 per month
Price includes Mesa Rim membership, family discounts and additional team benefits
PRACTICE TIMES:
Tuesdays & Thursdays from 4:00pm – 6:30pm
Seasons: Aug – Feb (Bouldering); Mar – Jul (Ropes)
PREREQUISITES:
Admission by team try-outs or approval from head coach
SUMMIT YOUTH team
COMPETITIVE CLIMBING TEAM
The Summit team is for committed climbers who want a serious training environment to prepare for USAC local, regional, divisional and national events. The team coaches will introduce climbers to competition-specific technique development, rigorous strength and endurance training, goal setting and strategy.
REQUIREMENTS:
Must be 9 to 18 years old
Must attend a minimum of two local competitions and one regional competition per season
MEMBERSHIP PRICE: $235 per month
Price includes Mesa Rim membership, family discounts and additional team benefits
PRACTICE TIMES:
Mondays, Wednesdays & Fridays from 4:00pm – 6:30pm
Season runs August – July
PREREQUISITES:
Admission by team try-outs or approval from head coach