Mesa Rim and REI worked creatively together to make this year's Halloween about more than just your usual tricks and treats.
Republished with permission from koibooth.
Sticking to your workout routine takes dedication and sometimes a little encouragement. On top of that, it's easy to find reasons not to go. Maybe you're tired after a long day or maybe it's a holiday and you'd rather be around friends and family.
But what if you were a member at a gym that knew how you felt? What if you belonged to a gym whose enthusiastic staff valued your commitment so deeply that they worked hard to create much more than a place to work out. But rather, they created a community. A second home.
So that even when thoughts of "maybe I'm too tired to workout today" cross your mind, you can't help but want to go. Because it's more than a workout routine among strangers. It's a camaraderie among familiar faces.
That's what we have found at Mesa Rim and if you were to ask any of their other members, we bet they would tell you the same. Their innovative and passionate team has thoughtfully established a well rounded and inviting, work hard, play hard environment. From a dynamic facility that is changing up every few weeks to keep things fresh to multiple events happening every month, it's no wonder this place is so loved by San Diego locals.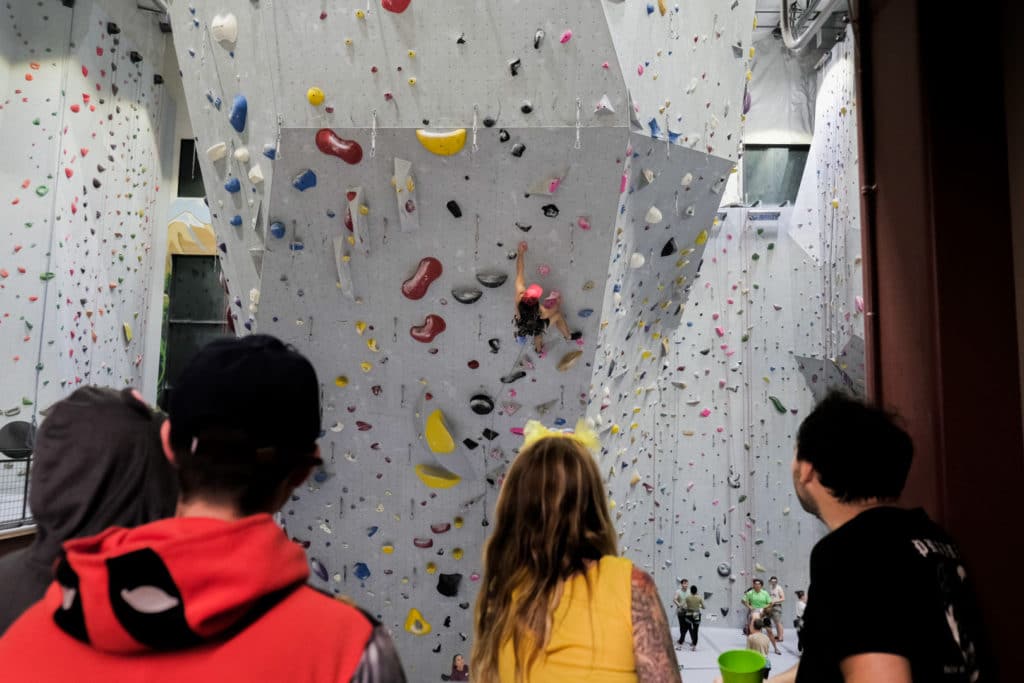 Speaking of amazing events, Rocktober was no exception.
Mesa Rim Mission Valley partnered with REI to throw a Halloween extravaganza and it was a fantastic way to celebrate the spooky affair. There was everything from a costume contest to games, to booths giving out more information on how to get more involved in the community.
As the event revved up, nestled all around the gym's 55 foot high rock climbing walls you could find members of all ages dressed up in a variety of costumes. Many were even homemade – from a bouldering crash pad to a bag of dried mangos to a pink unicorn. It's safe to say that when it comes to costume contests, these folks have it figured out.
What was even more incredible was that at any given time, you could look around and find members still working out and participating in the event games in their costumes!! We're talking climbing, bouldering, lifting weights, crate stacking and even doing various acro stunts. We were so intrigued by the acro stunts and the crate stacking. We've never tried either but find them to be so inspiring. They appear to take not only an immense amount of focus and strength, but a strong form of collaboration between each person involved. Throw in a couple of people with Halloween costumes on and it just gets even better.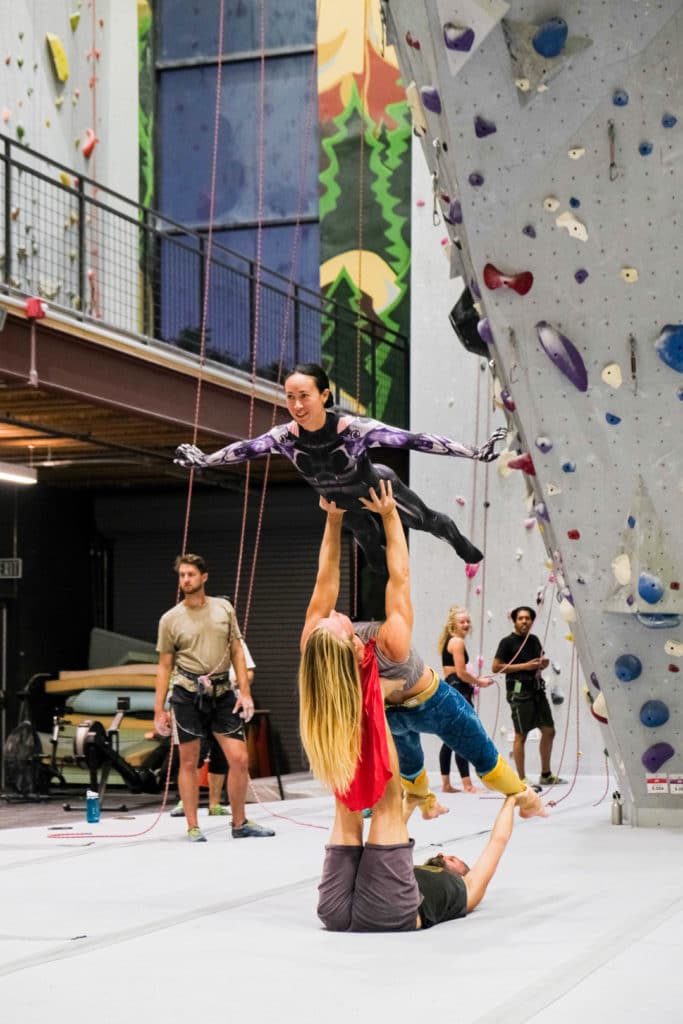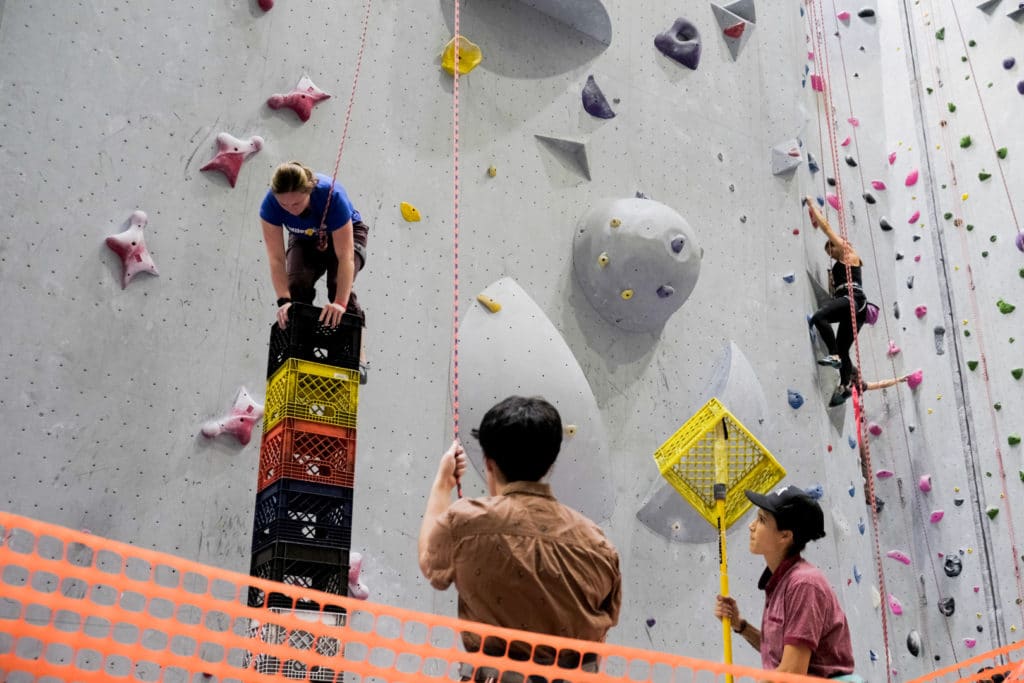 So what inspired everyone to still workout even during the party?
We mentioned above about sometimes needing a little encouragement to get to going on your workout…and great food can be great encouragement. Dos Tierras Tacos made the night with their deliciously satisfying tacos complete with fresh homemade corn tortillas. From the moment they started serving tacos until the moment they ran out there was a line. And it was totally worth it. If you missed out or didn't get one, we highly recommend checking them out. They're local, they have extraordinary customer service and they know how to make a great taco.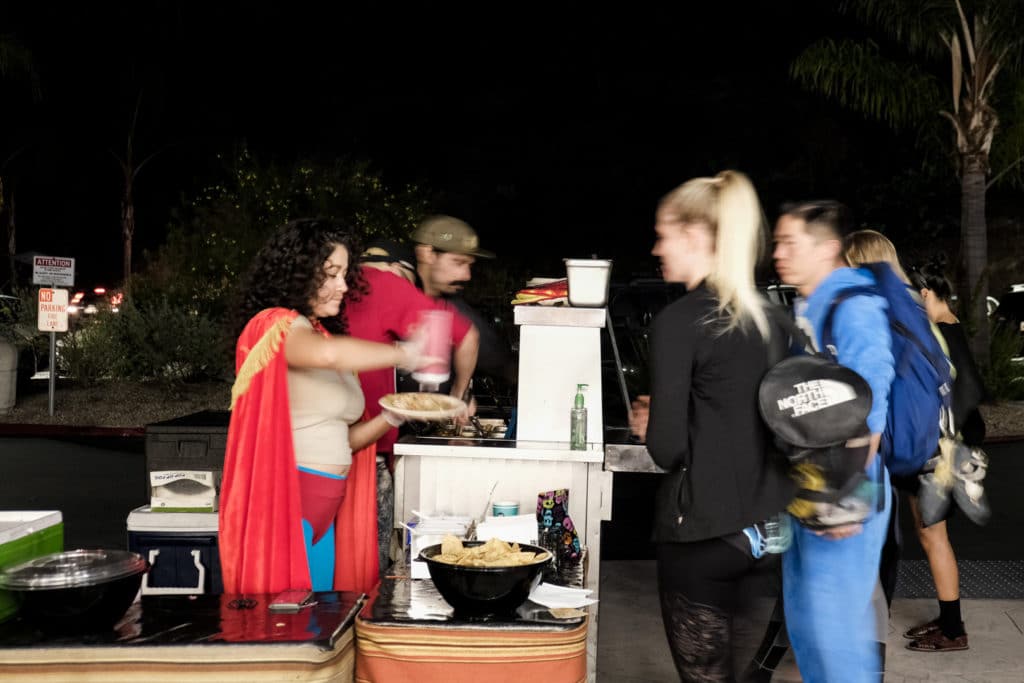 And if great tacos weren't enough to get people going, there was a selection of craft brews from Pure Project and refreshing cider from Bivouac Ciderworks for anyone 21+.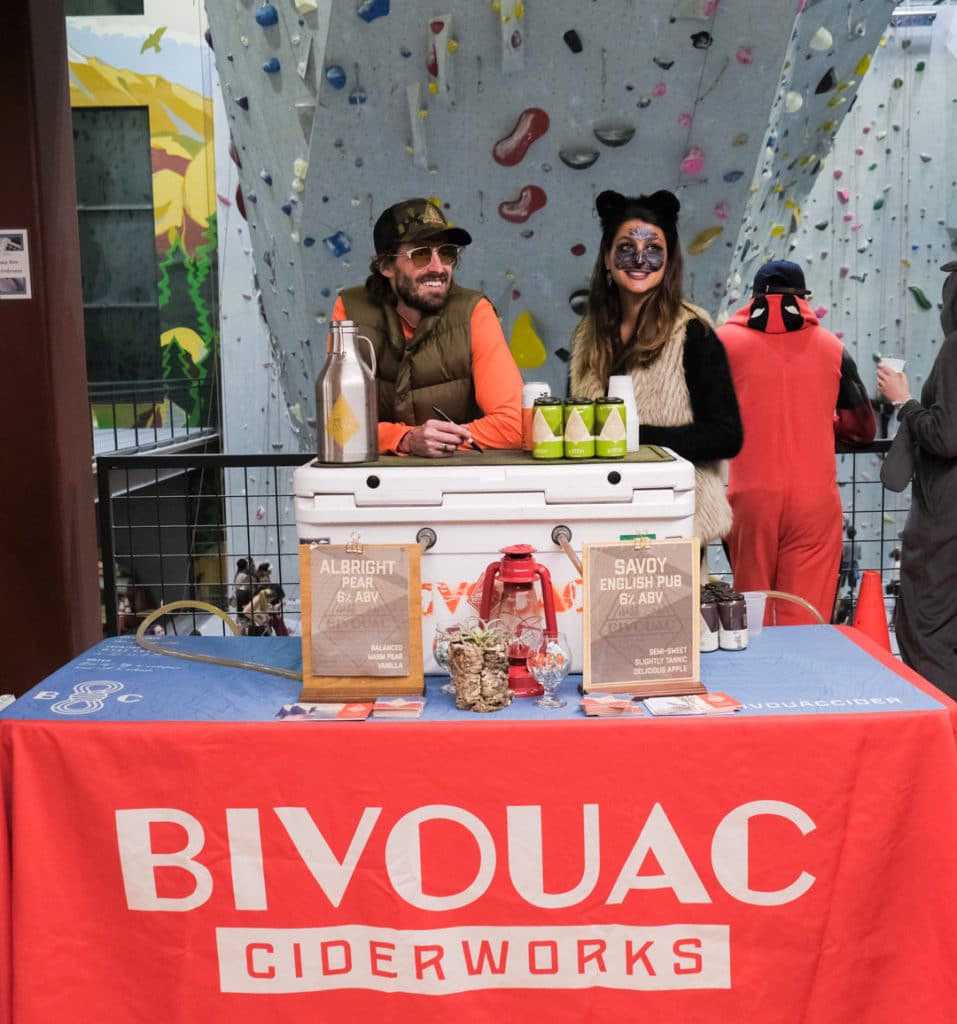 Free tacos and beer? C'mon, can it get any better?!
Oh wait…it can. And it did.
First, let us first just take a small pause and give another HUGE shoutout to REI to Mesa Rim because they thought of everything. Because just when you thought it was awesome – it turned into incredible, as dessert came through with none other than Ben & Jerry's. On a cart. Mobile. With two of the nicest employees to scoop ice cream of your choice for you right there on the spot. We'd thought we'd seen it all. But this…this was absolutely – 100%, the cherry on top.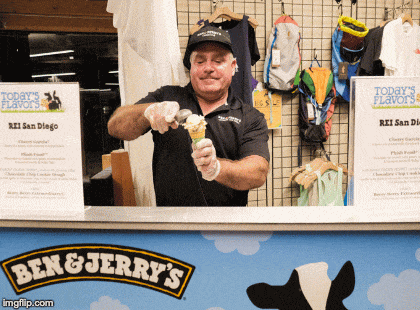 Okay, okay, so it was not all just tacos and ice cream.
Afterall, what would an event be without some great swag? REI pulled out all of the stops with their hat pressing station. They must've had hundreds of plain baseball hats and one of a kind patches out for you to choose from. They would press it right there and members would walk away with a custom hat and a very generous coupon to any REI store.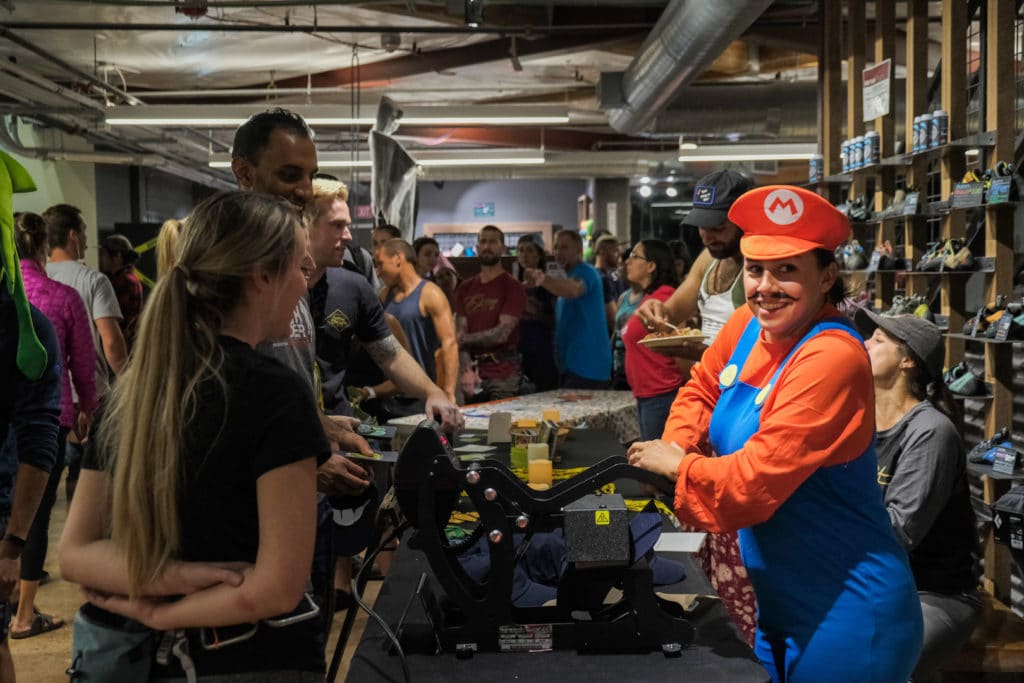 And course, we can't leave out our photo booth. Yes, we love our props but nothing could beat having guests come through all dressed up in their Halloween best. There were many giggles all night long and watching people light up when they take photos is really why we do what we do. We love seeing our guests happy we and we feel so grateful when we get invited to be a part of events as rad as Rocktober.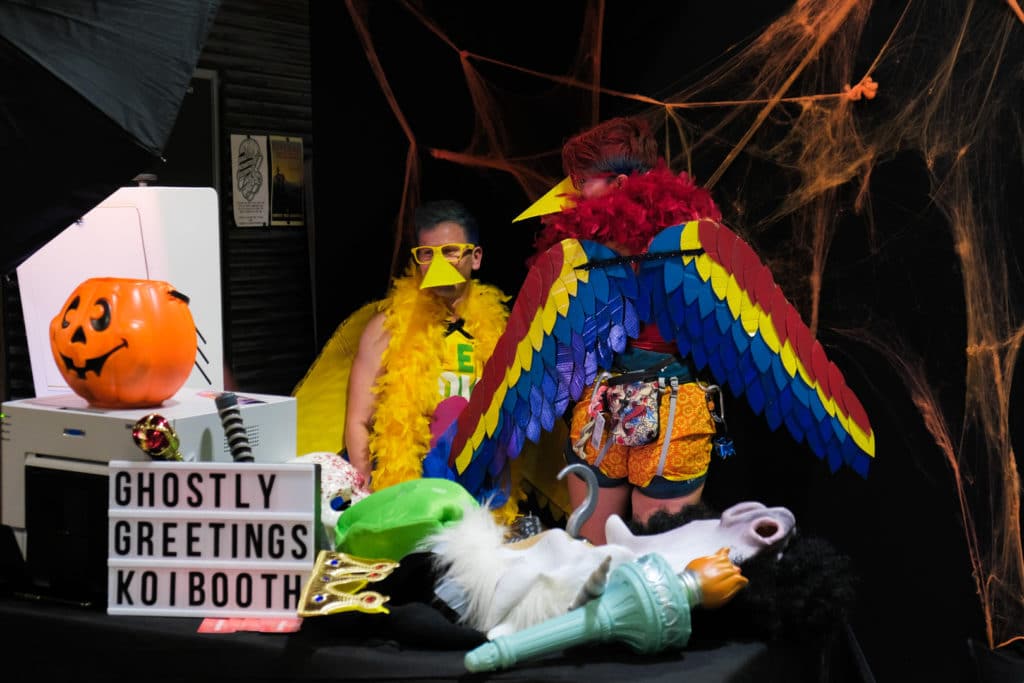 To the hardworking and creative collaborators from Mesa Rim and REI who made it a Halloween to remember, thank you again for inviting us to join in on the fun.
Rocktober Vendors: